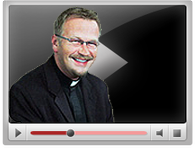 A Few Minutes With Fr. Andy
Fr. Andy comes to you on a regular basis with short spiritual messages and greetings. LIKE us on Facebook and we will send you a post every time a new video is uploaded.
Play Video Father Z. Andrew Rudnicki, Pastor
Welcome to Our Lady
Queen of the Apostles
Our parish community exemplifies the beautiful words of our Mission Statement: "The Catholic community of Our Lady Queen of the Apostles is a family dedicated to nurturing Christ's love among God's people."
Since the parish was established in 1988, we have grown significantly. Through the generosity of Time, Talent and Treasure of our parishioners, our beautiful new Church was dedicated on December 12, 2009. In fact, we now have more than 2,500 registered families and more than 50 ministries, programs and organizations. A true testament to the activity of our parish is reflected in the 700 students we have in our Religious Education programs and our extremely active Life Teen and middle school youth group.
Above all else, we are a place of worship, reflecting the ideals of sacrifice and service. Our Adoration Chapel is open daily. Enhanced by a strong music program, parishioners enjoy and participate in several choirs including our much-liked Life Teen band. Our liturgical ministries are also thriving - many parishioners serve as Extraordinary Ministers of Holy Communion, Lectors, Greeters, Altar Servers and Ushers. Our growing community also holds a Spanish Mass every Saturday for our Hispanic community and a Tagalog Mass one Sunday a month.
At Our Lady Queen of the Apostles you will find many opportunities to become an active member and share your time and talents. Our church will be here serving our parishioners and community for generations to come.
Read more
Mass Schedule
Saturday
6:00 PM (Spanish)
(One Sunday each month)
2:00 PM Tagalog
Weekday Masses
8AM (Mon - Sat)
Holy Days
8AM, Noon, 7:30PM
Sacrament of Penance
2:30PM - 3:30PM (Sat)
Adoration
7AM - 7PM (M-F)
Featured Ministry
OLQA Lectors
This featured ministry provides lectors and commentators to proclaim the Word of the Lord for all weekend Masses and on special occasions. Anyone with the ability to read well and speak clearly is invited to serve in this ministry. If you are interested in serving in this ministry please contact the parish office at 561-798-5661.
Read more